Not so long ago, we were saying hello to them, and now it is time for them to leave Macedonia. Elias, Sebastián, Eduardo and Nerea have ended their Vocational Education and Training (VET) program. At the end of their journey in Macedonia, they shared what this experience taught them.

In the second half of May, they arrived in Skopje to do the internship related to their profession. All of them study Image and Sound in Huesca. During the time in Skopje, they were working in a national TV "Alfa" to gain experience in practical work. The group leaves not only a workspace that taught them a lot, but also people who made their time even better than they were expecting. We've talked to them individually to get to know what they are feeling and what they'll miss the most.
Elias
The decision to go to Macedonia was done in the last minute. At first, I was so confused, but right now I am very grateful because it has been one of the best experiences of my life, he says. Elias is sure that one day he'll visit Macedonia again. He has learned a lot of things, not only in the professional field, but also personally. In the beginning the language was a problem for him, not only the Macedonian, also English because he never talked in English with the people. The time in Skopje has taught him a lot in how to communicate with people and how to have confidence in himself. He adds: This experience was amazing, the people, the culture, the food and more things. It has made me grow a lot professionally, but above all personally.
Sebastián
As Elias, he will definitely miss Skopje and the people whom he has met during his time here. Sebastián didn't lose any time here, he has learnt a lot about the place and Balkan culture in general. Besides professional stuff which is why I came here in the first place, I learnt to read Cyrillic and that's something I might have never done If I didn't come here. It also improved my English speaking and social skills because I had to try harder to interact with people when the language wasn't enough, he says. In the end, he recommends taking the chance and try things that sometimes might be out of the comfort zone. It's something everyone should have the chance to live at least once in their lifetime, it makes you grow as a person and develop sides of yourself that you might have never thought about.
Eduardo
I'm happy to have met this country, but at the same time sad because we have to go, but I keep the good times and the good people I've met here in my heart because they have helped make our days here very good, shares the youngest person in the group. It was very important to him to learn new skills in the professional field, but also living in another country taught him how to overcome difficulties such as language. Eduardo will miss most the people he has met and work on TV. The experience here has been very enriching and intense, especially at first because he wasn't used to being far from his comfort zone. But in the end, by coincidence, he met a fantastic country.
Nerea
The only girl in the group loved meeting people from other cultures and learning a little about each one. She also really enjoyed the city: cosy and with a lot of green areas. When Nerea thinks about the things she has learnt here she says: I learned to live with cultures different from mine both inside and outside the home, apart from the work experience, obviously. Leaving Skopje make her miss the most people she has met, the Old Bazaar and the pretzels they were selling at the kiosk below her house.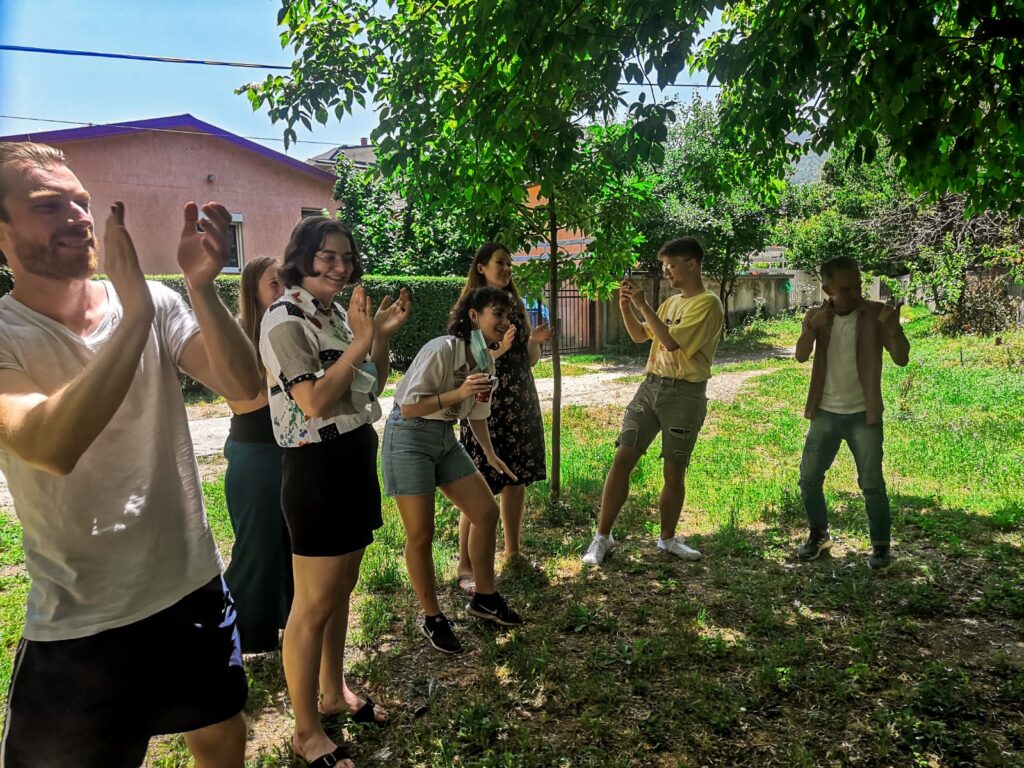 We are always sad when the time to say goodbye comes, especially to amazing groups like that. But we're not saying goodbye forever, hopefully we'll meet them soon! We wish all the best in their profession and hopefully the experience they've gained here will stay with them for a long time.
Anna Marek, Kacper Król