Our monthly magazine has a very simple, yet powerful, mission - to be the voice of youth. And how do we do that?
We encourage young people to take an active part in today's society through journalism and designing by giving them a platform to express themselves. VOICES is produced in Skopje, Macedonia, and published online every month and four times per year as a printed edition.
We have writers and translators from all over that contribute to the magazine, although VOICES is the main project for the international European Solidarity Corps volunteers. They create every edition from scratch, from planning the topics and writing articles to designing and distributing the magazine. Since volunteers are always changing, this 15-year journey has been full of diverse nationalities and personalities – and those changes are reflected in the magazine. The doors are open to each and every one of you, regardless the professional skills or experience.
It all started in 2006 when the first VOICES was printed. What began as a simple collaboration with "Dr. Pance Karagjozov" high school, is now a full reason for volunteers to come to Macedonia and to open minds with their writing. 17 years went by but we still live by the initial mission of VOICES – a magazine that breaks stereotypes in society and provides opportunities for young people.
Want to join us? We are always looking for new writers and translators! Start with our basic journalism and design workshops to improve your skills. Artists and photographers are also encouraged to feature their work in the magazine. Write us to vcs.sending@gmail.com
VOICES accepts articles about anything, except politics or hate speech. Brainstorm your ideas with us and write articles once, twice, or every month! Check out the writing guide here.
VOICES is published in three languages: English, Macedonian and Albanian. If you are a native speaker or fluent in these languages, join our translation team!
If you are an artist, photographer, designer or other, your work can be presented in the magazine. Send us your method of art and a short bio of yourself!
Our fresh podcast provides you with interesting content around the world. All the episodes are in English and available for everyone.
Who's behind all of this?
Our volunteers! Young people coming together to create VOICES magazine and podcast are from different European countries, doing their volunteering project in Skopje.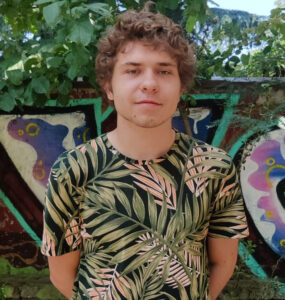 …with a little help from our team.
Our staff has a colorful set of skills on developing competences of the volunteers. Nothing has to be known before, everything can be learned!