When Vera Romanu moved to Romania, she was 19 years old. She had no relatives or friends in Romania. Even she got used very fast to everything new, she had to face everything by herself: to find the student dorm, to reach the university building, to make some connections here, to discover the new city, to get used to the language and accent, to understand people's behavior here: what do they like, what they don't like… That's why she wants to help other students.
Vera was selected for the project "European Youth at the frontlines of active citizenship: A Roadmap towards a collective South-North-East-West Momentum" organized by Volunteers Centre Skopje and supported by European Commission due to Erasmus+ European Youth Together programme.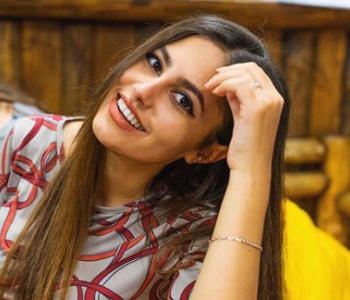 What is the purpose of your project?
– The goal of the project is to help young international Bucharest Academy of Economic Studies students once arrived in Bucharest, to get some help and guidance in university and social life. Studying abroad helps a lot of students getting a chance for developing new connections and increasing their personal development by studying abroad. But once their coming at Bucharest Academy of Economic Studies university from abroad, they face a big problem: low level of help in their integration in the new total different cultural and school environment.
What are your project objectives?
– Main project objectives are: to create a video series guide that will help them with integration, through this video guide I will explain to the new coming students all the aspects of student life, what should they do, what do they have to do, where can they ask for help, who is going to help them. Also I will try to gain the support of university decision makers to fasten the inclusion of the foreign students to the university life and to create a buddy ship system to fasten their integration.
What activities will you organize?
– I will organize next activities: filming the set of miniseries guide I was talking about before, meeting with volunteers and university decision makers, preparation of buddy ship program, meeting with the new coming students.
What do you expect to be the results of your project?
– I hope miniseries guide will be very helpful for foreign students, also I hope to include a foreign student in the student council. I expect to gain Implication of ASE Bucharest in promoting the visibility of the student integration program. And the last but not least, I expect to create a good buddy ship guide and volunteers group, so I will create a connection between local students and new coming ones.
How do you think this will impact the society?
– I think this project will Increase of social inclusion of foreign students in university, will create a better integration and multiculturalism, will create a better connection & Friendship between local students and foreign ones. For sure till the end of the project we will have a good tool for support and help for foreign students. Also we will increase interaction of local students with new cultures.
Vera Romanu